Recent tragic incident of death after brutal rape and assault on a girl in Hathras (Uttar Pradesh) raised this question. Why crimes against SC/ST are increasing?
Ajay Lilrain in one of his articles apprehended that rape will be common soon. And yes, it is an absolute truth. Now we are noticing cases with extreme brutality.
Hathras Rape Incident
In Hathras, victim's tongue was cut, neck and spinal cord was broken, finally 19 year old daughter left this body forever after losing battle for life.
There was continuous demand to shift the victim to AIIMS for better treatment. When hope for her survival was ended, she was shifted to Safdarjung Hospital, New Delhi. Here she took her last breath.
Everyone deserves respected last rites but after her death also, she was cremated at night by Uttar Pradesh Police. National Commission of Women asked Uttar Pradesh Police about so much hurry.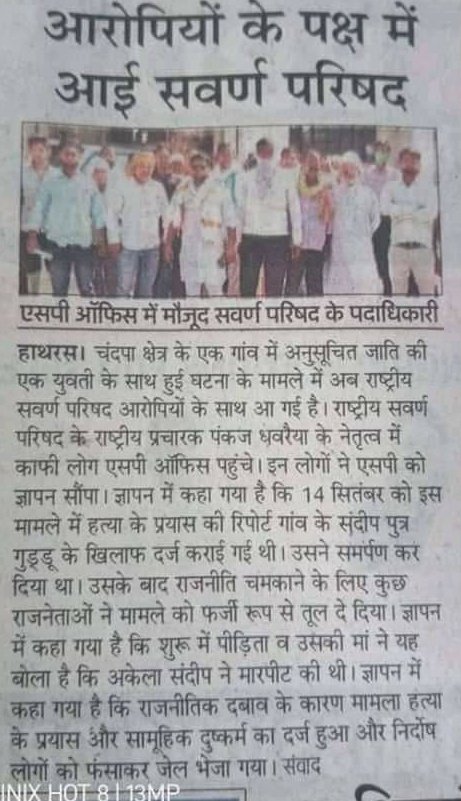 We heard occasionally that :-
Rape and any physical assault should not be seen from caste or religious angles. Daughters are daughters.
If daughters are daughters than why people were favoring accused at Hathras?
Why Caste angle is essential?
What was common in Nirbhaya and Priyanka Reddy case?
Why such things are absent in this case?
Same brutality and same physical Assault.
Victim also lost battle for life.
Reason: She belongs to Scheduled Castes in India.
Rape is now a pandemic in India & especially for SC/ST and other minorities.
In 2018, there was an average of reported 89 rapes everyday in India. Cases that went unreported are even higher.
In many regions in India, A newly wed Dalit women would have to sleep with upper caste landowners on her wedding night. Have you ever asked, Why?
Because she was from Scheduled Caste/ Scheduled Tribe or Minority. isn't that rape also? Would you believe such incidents were in the National Record Bureau Data?
Can we still say daughters are daughters?
If anyone dare to report such incidents at police station, They heard from them, "You are untouchables, how can you be raped by anybody?"
Mother-Fucker, Sister-Fucker, very common abuses in India. Women are also targeted for revenge. Physical assault on a women is considered as full-fledged revenge.
If you abuse that way, you are also a potential rapist. Tulsidas statement is worth to share here.
When being a women is suffice to face assault, Belonging to SC/ST or dalit community is always an advantage. Have we ever revolt on such statements?
Whenever we heard news of rapes, forced conversions and physical assault on minorities in Pakistan, we raised slogans against the nation.
Pakistan has no effective law to curb forced conversions into Islam. Minorities are struggling for democratic right. But a constitution with religious theology failed to deliver rights to minorities.
But we became preachers. Meanwhile we forget that accused must know he is committing a crime. When people have strong religious protection against such crimes, how could anyone consider them accused?
Meanwhile India has a constitution ensuring all basic human rights to everyone. But India is still struggling to eradicate caste-born mentality. Still Manusmriti is the real constitution for such people.
Other Examples
Such mentality did not spare children also. A minor [tribal] was kidnapped and gang-raped by 3 people at Khargone in Madhya Preadesh. She was allegedly gang-raped in a field and left there after which the accused fled.
Such is the Mentality
When Bandit Queen was released, everyone enjoyed the movie watching a Dalit Woman naked. But Padamawat release became an issue. Isn't honor has different definition with caste?
This is another example of caste-prejudice. Media have worries how Rhea spent her first day at Jail? But they are unable to see this –
This video is an example where all rules of human rights are broken. Can we ignore caste angle here also? Police administration ensure an inquiry in this matter.
Sooner People will forget this and story will end. Suddenly one more story will come.
A Dalit farmer was beheaded for not sharing water for irrigation with other farmer. This incident took place in Badaun's Din Nagar Sheikhpur village in Uttar Pradesh.
Was that really a crime?
Perhaps a dalit is not supposed to give an opinions. He gave his opinion in negative, consequence is beheading. Can we ignore caste angle here also?
Tolerance of authorities vanishes when issues of SC/STs came. This is another example of ruthless system ample with caste prejudice.
An Adivasi was killed by Madhya Pradesh Police because he came to buy essentials for his family in lockdown.

Was that such a big crime?
Was he supposed to die at home with hunger? He should dare break the lockdown? Can we ignore caste angle here also?
There are endless stories of suppression, oppression and crimes. These were never new, such stories has deep historic meanings. It is a war & only warrior will win.
Conclusion
There should not be any politics for such crimes. Crime can happen at any state ruled by any party. Problem is the hatred towards caste, in-born jealousy and prejudice towards marginalized people and dis-regard of Indian Constitution.
Now it is upon suppressed class of this country what they deserve & how they can achieve the deserved? There are only 2 options.
Just tolerate and live.
Enlighten themselves with knowledge and fight for justice.
Share the content